If you're looking for a December vacation that mixes plenty of sunshine with a splash of Caribbean charm, Barbados could be the perfect choice. December is somewhere between the peak and off-peak seasons, and visiting at this time of year gives you the chance to enjoy great rates and glorious weather on this bountiful Caribbean paradise.
Still not convinced? Here are some of the other reasons to visit Barbados in December:
The weather is amazing
The hurricane season is a distant memory by December, and the rains should have eased up by the beginning of the month. This means that, even though the island can be fun to visit at any time of year, December to April is a particularly attractive time to visit. The average temperature in December is around 30c (much like the rest of the year), but there's usually a lot less rain than in October and November.
With low humidity and around 8 hours of sunshine per day, there aren't many better places to spend the festive season. UV levels are high, however, so it's important to pack your sun cream. There is always a small chance of some bad weather disrupting things however, so it makes sense to travel prepared – bring a light rain jacket just in case.
There are some great deals to be had
Prices do rise a little bit in December as Barbados approaches its peak season. However, visiting in early December still gives you a good chance of getting a cheap rate on vacation rentals and other types of accommodation. The best advice for finding a good deal is to be flexible with your travel dates if possible.
It's easy to see why Christmas in Barbados is such a popular idea, and the costs do reflect that somewhat. However, Top Villas still offers great deals in Barbados over the festive period.
You can enjoy loads of fun activities
With the sun shining, there's an endless list of activities that you can enjoy in Barbados. Stunning beaches are what the island is famous for, but away from the seaside you can discover stunning natural attractions, historic sights, a vibrant nightlife and friendly local communities. Here are some of the best things to do on a December trip to Barbados.
Have a Caribbean Christmas
Christmas Day is still a national holiday in Barbados, and there are few more picturesque places to enjoy the festivities.
Just like in the UK and the USA, Christmas in Barbados is centered around being with family and friends. Locals will often attend church on Christmas Eve for a Midnight Mass, or on Christmas morning itself, whilst the vibe of the day remains one of sharing and celebration.
There are some delicacies of the festive season that should be high on your list to try out. Great Cake is the Bajan equivalent of a festive treat many will already be familiar with. It's thought the recipe from this fruity dessert is based loosely on Christmas pudding – but the inclusion of Barbadian rum amongst other things are what makes the Great Cake…well, great!
---
Recommended villas in Barbados
Carlton 2
4 bedrooms – sleeps 8
Mullins Beach 3
8 bedrooms – sleeps 16
Barbados 328
4 bedrooms – sleeps 8
---
Jug Jug is a dish derived from Scottish roots, influenced largely by haggis. It consists of salt meat, corn flour, herbs and green peas, and comes together as a hearty and tasty meal. Baked ham is another extremely popular festive meal, made when the meat is studded with cloves and then basted with a flavored glaze during cooking.
On the big day itself, many residents and visitors head into Queen's Park. In the heart of the capital city Bridgetown, a huge party takes place each year, celebrating fashion, family, friends and fun. If you're looking to take in something a little different on December 25th, this could be the activity for you.
Head to the beach
If you're used to spending December in a cold place, then you'll want to make the most of the glorious weather in Barbados. If the beach is calling, then there's no shortage of choice for visitors.
Mullins Beach is a very popular area for tourists and locals alike, making for a vibrant atmosphere. At around 300 yards long, this stretch of light, golden sand hugs calm blue seas. It's an ideal stretch for some safe swimming, whilst water sports are also available to try out if you are feeling adventurous.
If you are after somewhere a little bit more tranquil, try Ju Ju's on the coast of St James. It's a real hidden gem, and you can read more about all the sandy spots in our Barbados beach guide.
Swimming with turtles is one of the most memorable experiences to enjoy on any Barbados vacation. Head to Freights Bay or Carlisle Bay on the west coast armed with snorkeling gear, and you can make your way into the ocean to see the marvelous creatures in their natural habitat.
Read more about swimming with turtles, including some recommended tour experiences, in our full guide.
Take in the Bajan culture
---
Recommended condos in Barbados
Mullins Beach 6
2 bedrooms – sleeps 4
Christchurch 21
3 bedrooms – sleeps 7
Portico 1
3 bedrooms – sleeps 6
---
December is a great time of year to take in some Caribbean culture. Barbados offers many interesting sights to see – most notably in the capital city of Bridgetown.
Listed as a World Heritage Site, Bridgetown boasts over 400 years of rich heritage, and has a host of buildings, artifacts and other interesting things to explore. National Heroes Square (previously known as Trafalgar Square) is home to the famous Lord Nelson's statue, whilst the Parliament buildings are also based here.
When you're done exploring, you can head to the harbor and enjoy a cool Barbadian rum with a view. Sports are also a key part of the Barbados culture, and there is no better place to take in some live action than the Sir Garfield Sobers stadium.
Formerly known as the Kensington Oval, this stunning modern cricket ground often hosts international matches as one of the homes of the West Indies, along with a host of top regional action. Even when there's no game on, you can take a tour of the stadium and browse through the fascinating memorabilia it holds.
Places to stay
If Barbados in December looks like a good idea, then Top Villas has an amazing range of properties to rent on the island.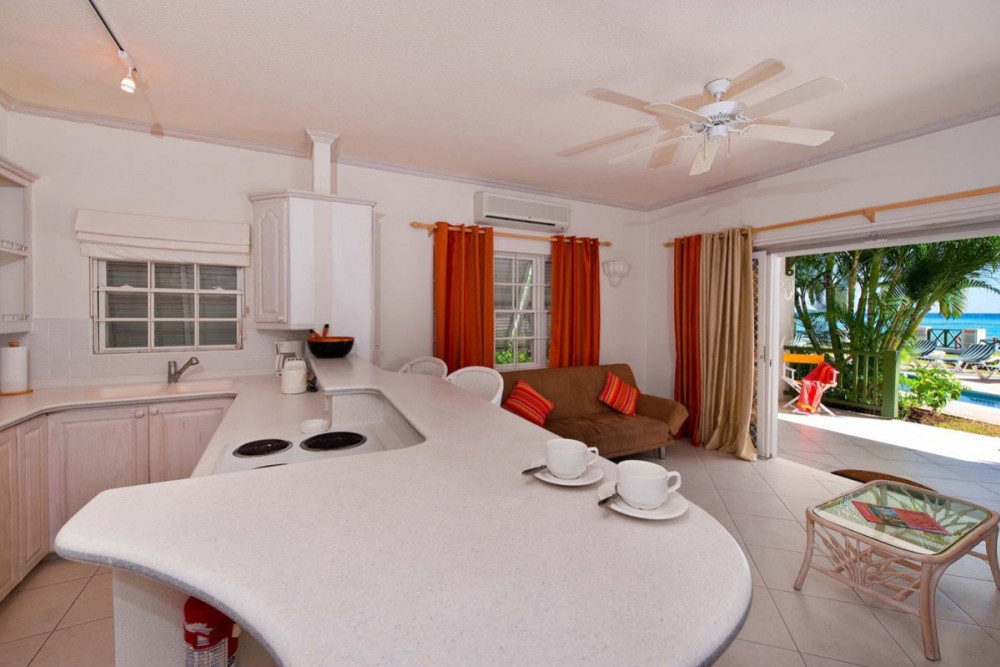 Located in the vibrant south part of the island, this comfy property offers affordable rates throughout the year. The spacious condo sleeps 2, providing an ideal option for couples, and has an open-plan kitchen and living area. The roomy private balcony looks out onto the beachfront for stunning ocean views, while the communal pool area provides the perfect place to relax.
If you fancy something a little more extravagant, this stunning villa houses up to 14 guests, and offers a luxurious base for the vacation of a lifetime. Built on the 16th hole of the Royal Westmoreland golf course, beautiful views are guaranteed. Guests here can enjoy unlimited rounds of golf, but also access to tennis courts, a private gym and the resort's beach club. The property also boasts a large private infinity pool, 4 spacious, air-conditioned bedrooms and multiple living and dining areas both inside and out. Finally, this villa comes fully staffed with a butler, housekeeper and private chef.
If you're visiting Barbados in December and you're looking for luxury accommodation, simply browse through our Barbados villas and condos, then use the filters to select the number of bedrooms and any other amenities you'd like to add. Once you've found your perfect home, you can book online safely and securely.
Browse through all of our Barbados villas to find the perfect accommodation for your vacation.